Sunset TV

Genre

Promotional Web Series

Series Duration

May 14, 2014 - April 16, 2015

No. of Episodes

52

Run Time

Usually between 2 - 3 minutes per episode

First Episode

Preview Episode

Last Episode

Thank You/Fanart/Cosplay Video

Format

Streamed video (YouTube and in-game)

Host

Brandon Winfrey
Sunset TV
was a weekly web series hosted on
Insomniac Games'
official website, and
YouTube
. The series promoted 
Sunset Overdrive
.
Pre-launch, each episode of the series revealed new information on the game, and featured a segment in which fan questions are answered.
Post-launch, each episode covered the latest news on patches, in-game voting, Solo Challenges, DLC, contests and merchandise. The current week's episode was also watchable in-game at any Sunset TV node. This was also where players can cast their votes on things like new vanity items and weapon balancing.
Some episodes have featured early gameplay footage, showing the evolution of the game's development.
The show was hosted by Insomniac Games' Brandon Winfrey, and the final regular episode, "The Death of Sunset TV, Part II" went up on April 16, 2015 (while the episode is labeled April 15 on YouTube, it did not go live until the day after). Tim Salvitti on the Insomniac Games forums revealed that there will be "plans for something to go up" when the episode's run is complete. This was a video thanking fans for their support and ending with a montage of fanart and cosplay photos, including submissions and winners of the contest to have an outfit design featured in the game. This video went live within the game on June 5, 2015.
Each episode is typically only a few minutes long. Brandon's dialogue usually involves a lot of puns and cuts to short, awkward jokes. Any big news usually comes first, such as DLC, patches, voting options, or whatever the episode is titled after, followed by the weekly challenge, followed by fan submissions. Episodes end with Brandon encouraging viewers to send questions and submissions to them.
Brandon sometimes wears
Sunset Overdrive
merchandise or in-game
clothing
items such as the Leggings (Space Cat variant) and the Denim Vest (worn by the
Player
in the trailer)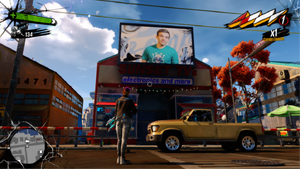 Guest Hosts
Edit
Stephanie Bayer, Sr. Community and Social Media Manager at Insomniac Games (Sept. 11, 2014 - untitled episode)
Many Insomniac Games' developers (Oct. 9, 2014 - Achievements And Insomniacs!):

Giac Veltri, Engine Programmer
Erin Zaneski, Character Artist
Joel Goodsell, Lead Designer
Adam Noonchester, Sr. Programmer
Calvin Wong, Amateur Beekeeper
Tony Mora, Lead Character Artist
Elan Ruskin, Sr. Engine Programmer
James Stevenson, loves Big Brother
Jonathan Adamczewski, Engine Programmer
Lisa Brown, Designer
Melissa Smith, Environment Artist
Ryan Schneider, Power Walking Regional Semi-Finalist, 2006
Zack Erickson, QA
Roger Chang, QA
Alex Carracino, QA
Erich Meyr, Designer
Rowan Belden-Clifford, Designer
Patrick Guiness, Release Engineer
Aaron Lopez, QA
Danny Mastrangelo, QA
Holly Azami, QA
Nathan Ostrander, Gameplay Programmer
Chris Kagel, Lead Designer
Cory Hoover, Pushy Vegetarian
Joshua Leman, Associate Designer
Ed Kim, Project Manager

Larry Hryb, Xbox's Major Nelson (Dec. 9, 2014 - The Mystery of Mooil Rig Reveal!)
Jessica Chobot, Nerdist News (March 3, 2015 - DotRotFM Reveal!)
Text-to-Voice narration (April 1, 2015 - DotRotFM Chaos!)
Drew Murray and Marcus Smith (June 5, 2015 - Thank You/Fanart/Cosplay video)
External Links
Edit