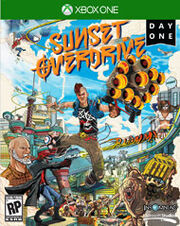 The Day One Edition of Sunset Overdrive is a special edition version of the game. In addition to the base game, the Day One Edition includes exclusive weapons and skins. It will be released in Fall of 2014, exclusively on Xbox One.
Contents
Edit
It shares the same title as the Xbox One Day One Edition, as well as the same font. 
Ad blocker interference detected!
Wikia is a free-to-use site that makes money from advertising. We have a modified experience for viewers using ad blockers

Wikia is not accessible if you've made further modifications. Remove the custom ad blocker rule(s) and the page will load as expected.