Chaos Squad is a co-op multiplayer mode featured in Sunset Overdrive." It's what you would call bad ass in terms of amazing multiplayer. In Chaos Squad, up to eight players can team up and complete several missions. Each time a mission is complete, two new ones will appear. These missions can then be voted on. Each mission has a different location and objective from the previous mission. Completing these missions will unlock new items and weapons to customize your character with, as well as some cash. 
Rounds of Chaos Squad culminate in a Night Defense mission. The difficulty of this final mission is determined by what missions have been completed previously in the round. Traps are a big component to night defense missions.
To enter Chaos Squad from single-player, simply enter a photo booth. This will teleport you to your teammates. All of your stats and items from single-player will carry over to Chaos Squad. As of a December title update, players can use the pause menu to enter and exit Chaos Squad.
Districts and Objectives Edit
There are up to 6 districts that Chaos Squad can take place in. When matchmaking, the player may search for an individual district or for "All Areas".
Old Factory Night Defense
Urban Jungle Gym II
Scavenger Scramble II
Little Tokyo Night Defense
Urban Jungle Gym III
Scavenger Scramble III
Harbor Night Defense
Urban Jungle Gym IV
Scavenger Scramble IV
Downtown Night Defense
(requires The Mystery of Mooil Rig DLC)
Scavenger Scramble V
Mooil Night Defense
(requires Dawn of the Rise of the Fallen Machines DLC)
Fizzie Attacks... Again
Scavenger Scramble VI
Robotics Factory Night Defense
Cut Missions Edit
The following missions were in the game at one point, but removed during production. Some share names of missions in the final product. Voting screens for them can be seen in the video at the bottom of the page.
Little Tokyo District
Scavenger Scramble - Scavenge for supplies and eliminate OD.
Convoy Ambush - Destroy the Fizzco convoy before it reaches the radio tower.
Patrol - Patrol the Japanese Garden and eliminate all OD.
Urban Jungle Gym - Reach the top of the radio tower without falling while destroying Fizzco Security Reinforcements.
Chaos Rating Edit
Each mission comes with a Chaos Rating, represented by a percentage. Each successful mission will add to this total, increasing the difficulty of Night Defense, but allowing for more potential rewards if the match is successful. If there are fewer than 8 players in the higher difficulty districts, it is usually advisable to vote on lower value Chaos missions, depending on competency and confidence of the players or the additional bonuses granted.
At the end of each match, each player may receive up to 5 rewards depending on their total score. Regardless of score, everyone will receive at least 1 reward as a "Free Spin".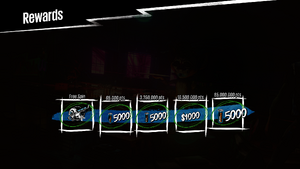 First, every bonus objective that was completed will double the total score (no bonus is added for failed missions or missions the player did not participate in if joined late). Each mission can add a maximum of 4X points. Then, if Night Defense was successful, the player's score will be boosted by the Chaos percentage value.
Next, 5 spinners will appear, each with a point requirement to receive that reward. One reward will be granted for each threshold met. Rewards are as follows:
If all Amps, weapons, and vanity items have been unlocked, the player will gain weapon boosts and currency instead. All rewards are usable in Campaign mode.
Below is a table of points thresholds required for each reward:
| District | 1 Reward | 2 Rewards | 3 Rewards | 4 Rewards | 5 Rewards |
| --- | --- | --- | --- | --- | --- |
| Old Factory | Free Spin | 20,000 pts | 1,450,000 pts | 5,000,000 pts | 41,000,000 pts |
| Little Tokyo | Free Spin | 65,000 pts | 3,350,000 pts | 10,500,000 pts | 85,000,000 pts |
| Harbor | Free Spin | 190,000 pts | 8,500.000 pts | 22,500,000 pts | 180,000,000 pts |
| Downtown | Free Spin | 460,000 pts | 18,500,000 pts | 46,5000,000 pts | 370,000,000 pts |
| Mooil RIg | Free Spin | 20,000 pts | 1,450,000 pts | 5,000,000 pts | 41,000,000 pts |
| Fizzco Robotics | Free Spin | 20,000 pts | 1,450,000 pts | 5,000,000 pts | 41,000,000 pts |