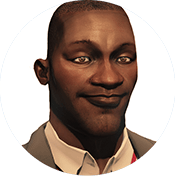 Arnold Renner was the presumed mayor of Sunset City. Sometime during his term, he had "an incident" with kissing babies. 
During Fizzco's American tour, Renner helped promote the OverCharge Delirium XT by shotgunning the first honorary can. 
Ad blocker interference detected!
Wikia is a free-to-use site that makes money from advertising. We have a modified experience for viewers using ad blockers

Wikia is not accessible if you've made further modifications. Remove the custom ad blocker rule(s) and the page will load as expected.